Get to Know Kaneohe with Sherrie Au
People who live in Kaneohe REALLY LOVE Kaneohe, myself included. We don't have beautiful beaches, but we have the gorgeous Ko'olau mountain range and sparkling Kaneohe Bay.  Our town's surrounding landscape is truly astounding. Just ask anyone who has tried to drive over H-3 into the tunnel without being distracted by the innumerable waterfalls cascading down the cliffs after a heavy rain.
Anchors of this community include Windward Community College and Windward Mall, plus many other businesses, shops, eateries, and services.
Here are some of the special places in Kaneohe.  Check them out!
47-200 Kahekili Highway (Temple Valley)808.239.8811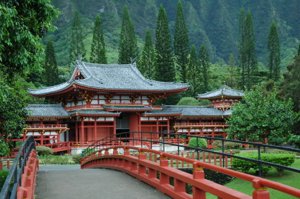 It's almost a surreal experience to visit the Byodo-in Temple, tucked back in a valley at the foot of the Koolau mountains in Ahuimanu.  The Temple is a replica of the Byodo-in Temple, more than 950 years old,  in Uji, Japan. 
There's a 5-foot high, 3-ton Sacred Bell believed to rid your mind of evil and temptation when you ring it (with the gong – a wooden log). 
Inside the Phoenix Hall you'll encounter the immense 9-foot high golden Buddah – none other like it in the world. 
You can stroll the gardens, linger in the Meditation Pavilion, feed the koi fish, and admire the peacocks.  I've even had small birds come and eat out of my hand.
Check here for hours and cost.
45-219 Kokokahi Place
In the hillside neighborhood of Kokokahi, overlooking beautiful Kaneohe Bay, there's a special place called Friendship Garden.  With a little over half a mile of easy hiking trails, a tea house and pavilion, it's a perfect spot for meditating.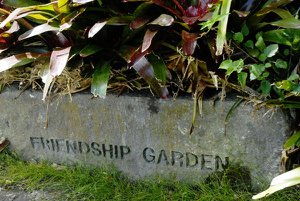 The Garden's hiking trails and non-profit Foundation are privately maintained.
Why not take a break from your hectic schedule and visit the Friendship Garden.  It's FREE, and open every day during daylight hours.  Parking is limited.
Here's more info:  http://friendshipgarden.org/
46-336 Haiku Road
808.247.0605
Haiku Gardens is a unique and breathtaking paradise and home to Haleiwa Joe's Kaneohe restaurant.  You really feel like you are in the middle of the rainforest when you are in this garden.  
Many of the various flowers and trees and water lilies were planted in the 19th century by an Englishman named Bakersfield, who purchased the property as a royal possession.
You can go for pupus or dinner at Halewia Joe's.  
Haiku Gardens is a beautiful place for a wedding - Greg and I got married there!  
45-680 Luluku Road
808.233.7323

This spectacular 400-acre garden nestled at the foot of the majestic Ko'olau mountains is the largest of the Honolulu Botanical Gardens.  It really lives up to its name which means "peaceful refuge".
What can you do there?  Stroll, power walk, run, hike, bike, fish, picnic, camp, have a meeting, take a class, get married. Be sure to check here for hours and rules.
45-285 Kaneohe Bay Drive808.247.6464
Outdoor mini-golf center with a tropical 18-hole course, plus a 400-ft. zip line, banquet hall and snack bars.
Golf course for all skill levels...
http://www.bayviewgolfcourse.us/
45-285 Kaneohe Bay DriveMini-golf 808.247.6464Zipline 808.665.3753
Mini golf for the family!  Oahu's first Zipline!

45-550 Kionaole Road
808.236.4653
This award-winning 18-hole championship course in the tropical rain forest sits at the foot of the magnificent Ko'olau mountains and is considered one of the most beautiful courses in the nation.

Also a great place for weddings, banquets and meetings.
45-050 Kamehameha Highway
808.266.7612
Pali is a fun and beautiful 18 hole regulation course aside the verdant cliffs of the Ko'olau mountain range. Facilities include practice greens, club rental, locker rooms, and a restaurant.
Outrigger canoe paddling is Hawaii's official team sport.  
Heeia Pier
The Kaneohe Canoe Cub and its Kaneohe Cultural Foundation are committed to providing a learning environment that emphasizes Hawaii's cultural and natural resources. 

47-415 Mahakea Road
808.239.9951
Located in Kahalu'u, their mission is to perpetuate the cultural values of caring for the land and the ocean. 
44-503 Kaneohe Bay Drive
808.247.4121
Kaneohe Yacht Club was established to promote appreciation of boating (sailing and power boating) through social and competitive activities.  The Club offers first-class harbor facilities, a clubhouse, pool, tennis and dining and banquet facilities.  Greg remembers as a young teen attending the Cotillion dances there! 

With such spectacular views, it's a great place to have an event, and the Club will accommodate your event for breakfast, lunch or dinner.
Bayfront at Kokokahi YWCA
Non-profit created in 1985 to promote small craft sailing activites in Kaneohe Bay.
45-035 Kaneohe Bay Drive808.247.2124
This facility offers:
Camping / Retreats
Pool / aquatics program
Cultural learning programs
Wellness, sports and dance classes
Affordable summer and holiday childcare
Weekend events for teens
Meetings / conferencing / parties and weddings.